We Know Making Time to Exercise is a Challenge.

Don't Let That Keep You From The Best Fitness Experience Of Your Life!

Welcome to modern group fitness at Recharge!

Community focused, individually tailored.
Just had my first workout there. I've never thought I was cut out for crossfit but quickly am realizing that was my own flawed thinking. Ryan explained everything perfectly and answered all questions and dealt with my insecurities. Excited to continue!Jaimie
Our priority at RECHARGE is delivering an amazing integrative and holistic health and fitness experience.

We Are All Working Together To Support Each Other.

This Is A Community.

We All Have Strengths AND Weaknesses.

When You Become A Member of RECHARGE You Become Part Of A Caring, Supportive and Positive Community.
"This is my happy place."Francesca
Your Coach is also your physical therapist!

The RECHARGE 3 step process to success
---
Connector.

Schedule Your First Visit

Tour the world-class facility, sit down with your coach, go over your goals and concerns.

Connector.

Customized Plan

Based on your unique history, goals and experiences, we will come up with a customized plan for you.

Connector.

Your Initial Experience

Before starting ANY classes, you will go through the RECHARGE Initial Experience. You will have 3 one on one session with your coach who is also a doctor of physical therapy. You'll learn how to move, how to lift while being educated on the science of healthy living.

Connector.

Your Decision

After your initial experience one on one sessions, you'll have an opportunity to take one of our classes. You'll get to meet our community and they will get to meet you. Afterwards, you'll decide whether RECHARGE is a good fit.
---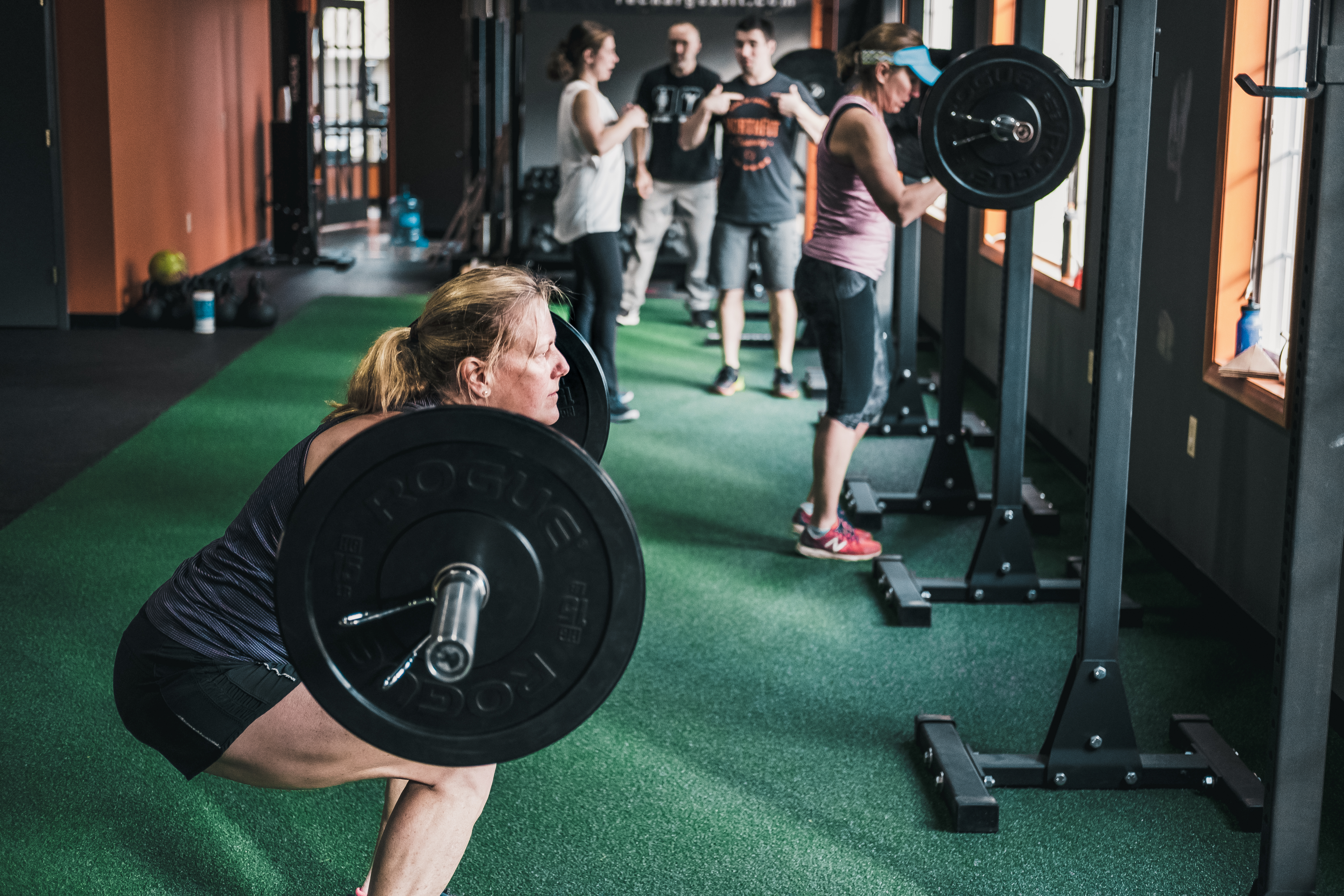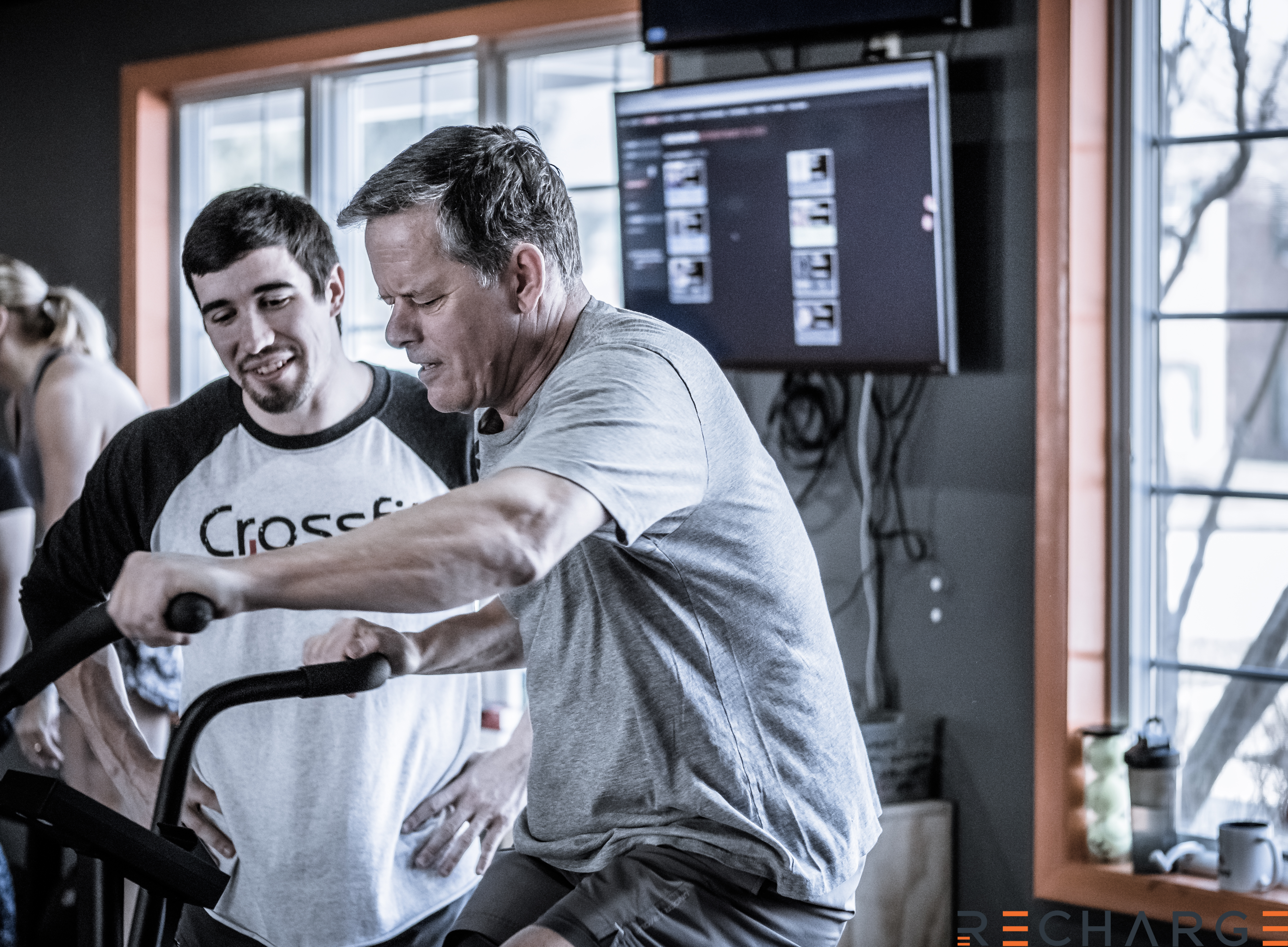 A Caring, Inclusive and Supportive Culture is CRITICAL at RECHARGE. Classes are 10-12 Members Maximum. In Other Words, This Is Like Cheers–Everybody Knows Your Name.
Experience RECHARGE Group Fitness in Ellicott City
As a beginner to CrossFit, I felt incredibly comfortable and got great personalized feedback to ensure that I was getting the most out of my workout. I can't recommend Recharge highly enough for anyone and everyone who is looking to improve their total health and wants an incredible team of physical therapists to help guide them along that journey! Can't wait to get back there!Ali
When You Become A Recharge Community Member It Goes Beyond Fitness–It's An Investment In Your Overall Health!
Introducing the Recharge Health Assurance Plan for Our Community Members.
Connector.

Flat Rate Co-Pay For Physical Therapy

Health Costs Are Astronomical. You Should Be Rewarded For Staying Healthy and Active. If An Injury Happens You Can See One Of Our Physical Therapists For A Flat Rate Co-Pay of $40. No Deductibles. No Dealing With Insurance Companies. No Hassle. Oh, One More Thing. It Extends To Your Immediate Family! Even If You Are The Only RECHARGE Community Member.

Connector.

Mindfulness Practice

Living a Health Life Means Taking Care of Your Mind AND Body. All RECHARGE Community Members Have Access To Mindfulness Strategies and Our Special Mindfulness Room For Practice.

Connector.

Health Customization

We All Have Unique Goals and Needs. Your Fitness and Health Experience Will Always Be Tailored To Your Specific Goals. All Our Coaches Are Doctors of Physical Therapy. We Will Develop Specific Science-Based and YOU Focused Strategies For Maximum Results.
RECHARGE Initial Experience Package
$129
Begin your experience with 3 customized one on one lessons with a doctor of physical therapy
Mindset Session/Health Evaluation
One group class
Address all your health and fitness concerns
For all fitness and experience levels
I'm interested.
Schedule Free Visit Now.
Have Questions? Want to try crossfit but nervous?
All RECHARGE classes are designed and coached by Doctors of Physical Therapy! We focus on quality movement and safety. Resulting in fun, effective and amazing workouts.
Give Us A Call!
Your Health Hub. One Call AWAY
We Are Here To Help You Feel Great, Move Better and Be More Confident. Please Give Us A Call With ANY Questions You Have.
Call Now
---
We are centrally located in Howard County. Whether you are in Columbia, Ellicott City, or Elkridge we are a short drive away.
We know you have many options for gyms and fitness. RECHARGE is more than a gym. However, if you are not within our area feel free to give us a call for recommendations near you. Our goal is to help you live healthy and active lives. We know it might not be with us.
Call Recharge