Fresh Food is Good Food.
Learn how to make delicious and healthy meals.
Shaved Asparagus Salad with a Homemade Dijon Vinaigrette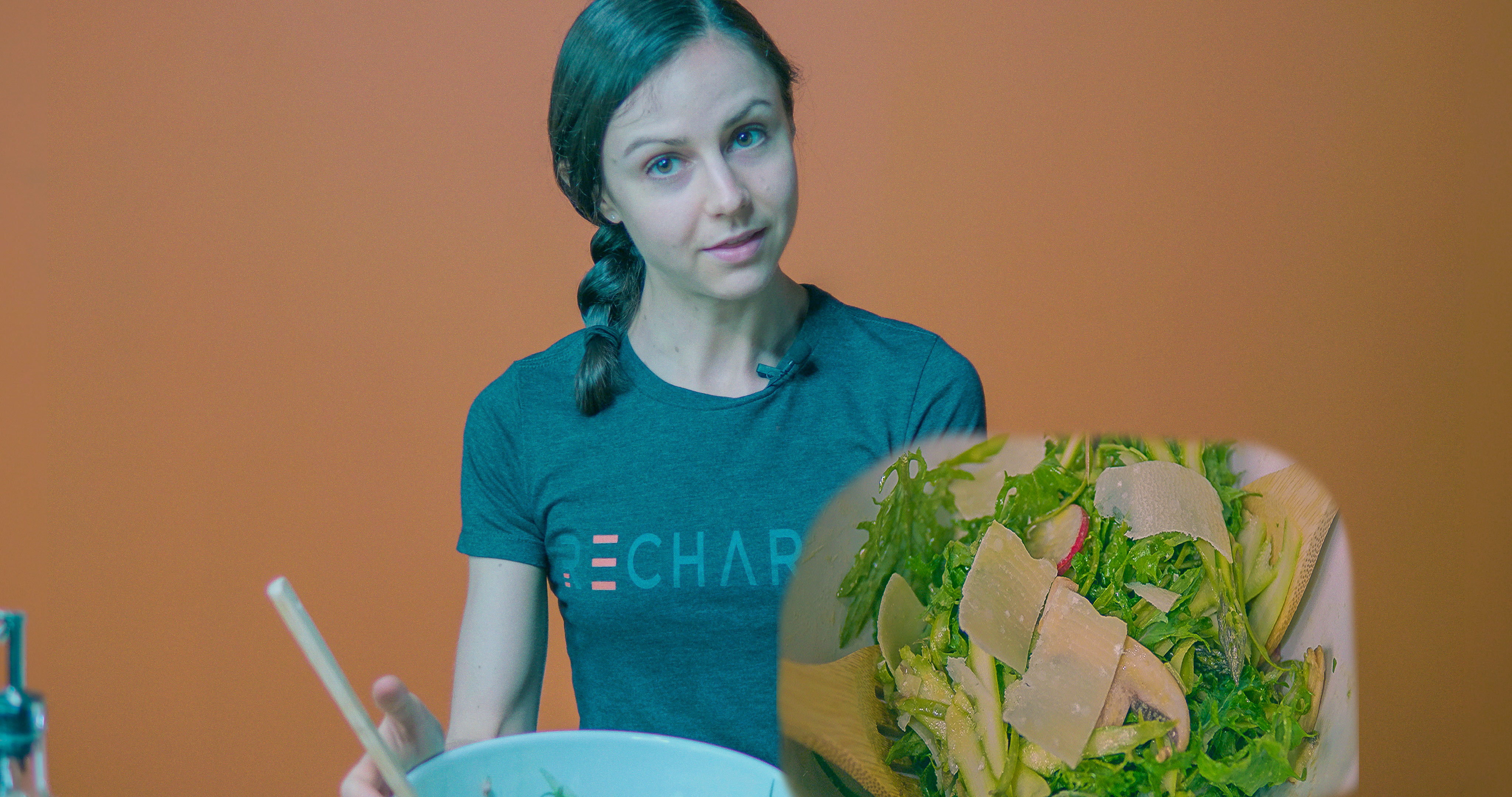 This week, among the plethora of veggies we received in our CSA share, we got asparagus and several varieties of greens – Bibb lettuce, dandelion greens, romaine, and mustard greens, just to name a few. Obviously, lettuces are most commonly used in cold salads, but these salads can be less than exciting when we throw together the same mundane blend of romaine, carrots, and tomatoes every night for dinner. Get creative with your vegetables and make salads that you actually look forward to eating!
Asparagus is an excellent embellishment to salads. Typically, asparagus is roasted or sautéed in some fashion, but when it's shaved raw into thin, delicate ribbons, its wonderfully sweet, woodsy taste comes to life. Paired with other dainty greens, such as mesclun or even spicy arugula, and a tangy vinaigrette, raw asparagus holds its own and becomes the perfect mouthful. The bottoms of asparagus stalks are woody and fibrous and should be peeled anyway, so why not put your vegetable peeler to work a bit more by slicing the asparagus into ribbons? Talk about upping your salad game for a fancy presentation!
When preparing the greens for your salad, it's important to thoroughly wash them, organic or not, to remove any dirt, bugs, and residual pesticides. You can use a salad spinner to immerse the greens in water, then lift the basket portion out of the spinner bowl to remove the greens from the water and allow all the debris to fall to the bottom of the water. Then you can dump the water out and place the lid on the salad spinner to dry the greens.
You can most certainly use your favorite bottled vinaigrette to dress your salad, but when I have the ingredients on hand, I like to make my own. A great way to get the last remnants out of your Dijon mustard jar is to make a vinaigrette! Simply put all of the ingredients into the nearly empty jar, screw the lid on tight, and give it a good shake. Dijon acts as an emulsifier in just about any sauce or marinade, and it's also my secret weapon to flavorfully thickening salad dressings.
The recipe below is for a shaved asparagus salad with a lemony Dijon vinaigrette. Enjoy!
Shaved asparagus salad with Dijon vinaigrette
For the salad:
6 oz. rocket (wild arugula)
¼ lb. asparagus (about 4-5 stalks of thick asparagus)
3 cremini mushrooms (baby Portabellas), thinly sliced
2 oz. Parmesan cheese, shaved into thin slices with a vegetable peeler
1-2 radishes, thinly sliced (optional)
For the vinaigrette:
1 Tbsp. Dijon mustard (or whatever is left at the bottom of your jar)
1/3 cup extra virgin olive oil
½ lemon, juiced (about 2-3 Tbsp. of juice)
2-3 Tbsp. red wine vinegar
Salt to taste
Black pepper to taste
Prepare the vinaigrette. Pour the olive oil, lemon juice, red wine vinegar, salt, and black pepper into the Dijon mustard jar. Screw the lid on and shake the jar vigorously to thoroughly mix the dressing. Set aside until ready to use.
For the salad, wash and spin dry your greens. Using a vegetable peeler, peel the bottom 1-2 inches of the asparagus stalks to remove the fibrous skin. Then use the vegetable peeler to shave the entire stalk into ribbons. You can even shave the tips! If the tips fall off, just toss them into the salad. Place your asparagus ribbons on top of the rocket, then toss the mushrooms and radishes on top. Dress the salad right before serving. Pour a little bit of the vinaigrette over the salad and toss with salad tongs. Add more vinaigrette if desired, then toss once more. Finally, using the vegetable peeler, shave thin slices of parmesan onto the salad for a garnish.
Are you following us on IG? Do it!!! –https://www.instagram.com/rechargexfit
Subscribe to our channel for more awesome videos! https://www.youtube.com/channel/UCgim…