Fresh Food is Good Food.
Learn how to make delicious and healthy meals.
Balsamic-Rhubarb Flatbread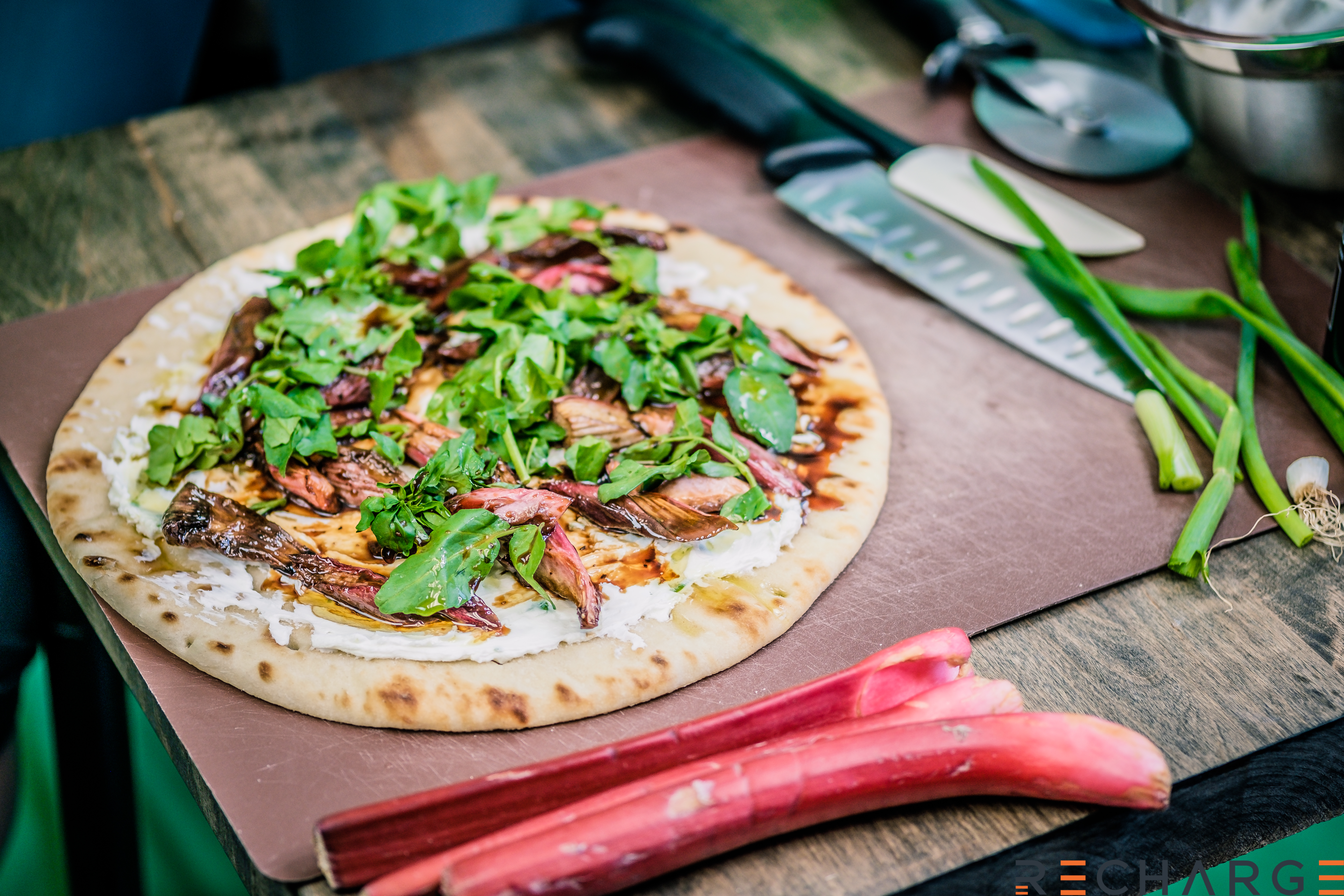 While it might look like red celery, you would be in for an unpleasant surprise if you dipped this ruby stalk into a dish of hummus, expecting celery's characteristic crisp, refreshing sweetness. Rhubarb is contrastingly extremely tart; the kind of tart that dries out your mouth. This vegetable is actually unlike celery in more ways than just its taste. Related to buckwheat, rhubarb has no family relation to celery whatsoever.
The vibrant red stalks of the plant are edible, but the leafy green tops are not. The leaves contain toxic amounts of oxalic acid, which essentially is poisonous. Often times these leaves are already removed when you purchase rhubarb at the grocery store, saving you a step, but if your rhubarb still has its leaves, be sure to cut those off before cooking.
Because rhubarb is so devoid of natural sweetness, it's often found in many dessert dishes, cooked down and macerated with sugar and other sweet fruits, like strawberries. When cooking with tart ingredients such as rhubarb it's important to balance flavors, but we don't always have to resort to overcompensating with sugar. There are many savory ways to utilize rhubarb, mellowing out the tartness with only a small amount of natural sweetness. It can be roasted, braised, sautéed, stewed, pickled, you name it! Should you choose to cook the rhubarb, be sure to use a non-metal or non-aluminum pan, as the vegetable tends to react with metal and transforms from its beautiful red into an off-putting gray. No one wants to eat gray vegetables!
Here's a recipe for a flatbread with balsamic-roasted rhubarb and goat cheese. If you're not crazy about the taste of goat cheese, you can substitute cream cheese or even ricotta cheese if you prefer something more mild. If you'd like to make this dish vegan, you could substitute the cheese for a plain hummus or even a nut-based cream cheese, such as Kite Hill. The natural sugars in the balsamic vinegar caramelize when tossed and roasted with the rhubarb, creating a sweet, sticky glaze. Peppery arugula or crisp watercress are a perfect complement to the sweet roasted vegetables and the rich, tangy cheese.
Balsamic-roasted rhubarb flatbread
1 flatbread
½ lb. rhubarb
4 oz. goat cheese, or cream cheese or ricotta cheese
¼ fresh chives, chopped (or scallions)
2 cups fresh arugula, or watercress, washed and dried
¼ cup balsamic vinegar, plus more for drizzling if desired
2-3 Tbsp. Olive oil
Salt to taste
Black pepper to taste
Preheat the oven to 350F. Wash and dry the rhubarb. If your rhubarb has leaves, cut off the leaves and discard. Cut a thin slice off of each top and bottom of the stalks. Cut the rhubarb into two-inch pieces on a bias. Place the rhubarb in a glass baking dish and toss with the olive oil, balsamic vinegar, salt, and black pepper. Roast for about 30-45 minutes, or until the vegetables cook down and caramelize. Once the rhubarb is finished, remove it from the oven and set it aside to cool.
While the rhubarb is roasting, prepare the goat cheese. Allow the goat cheese to sit at room temperature to soften for at least one hour. Once the cheese has softened to a spreadable consistency, place it in a small mixing bowl. Add the fresh chives and mix. Spread a thin layer of the goat cheese mixture over your flatbread.
Scatter the fresh arugula or watercress leaves over the goat cheese, and then finally top with the balsamic-roasted rhubarb. If you'd like drizzle a bit more balsamic vinegar over the flatbread and sprinkle with a pinch of salt and black pepper for a finishing touch.
And voila…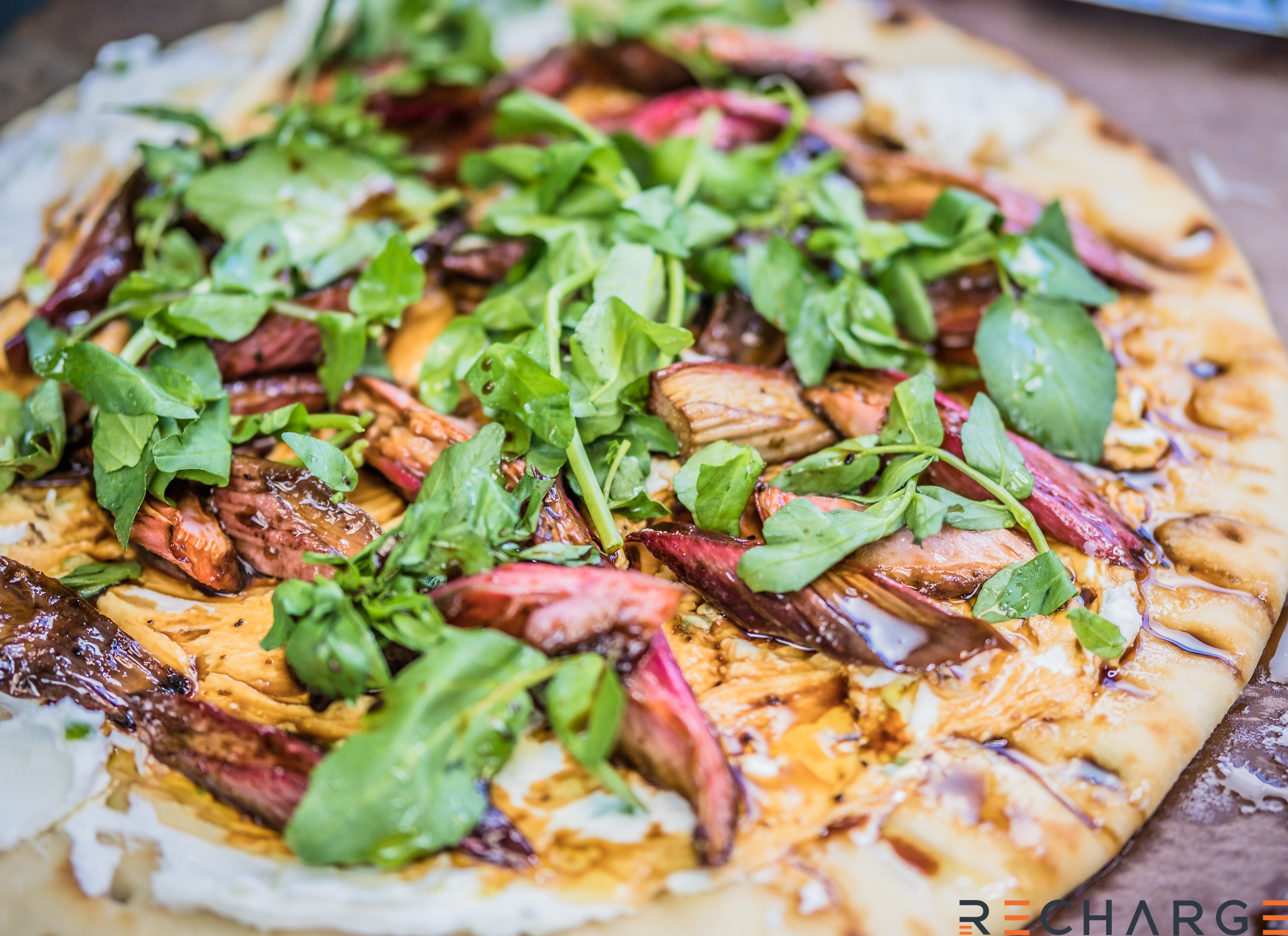 Are you following us on IG? Do it!!! –https://www.instagram.com/rechargexfit
Subscribe to our channel for more awesome videos! https://www.youtube.com/channel/UCgim…