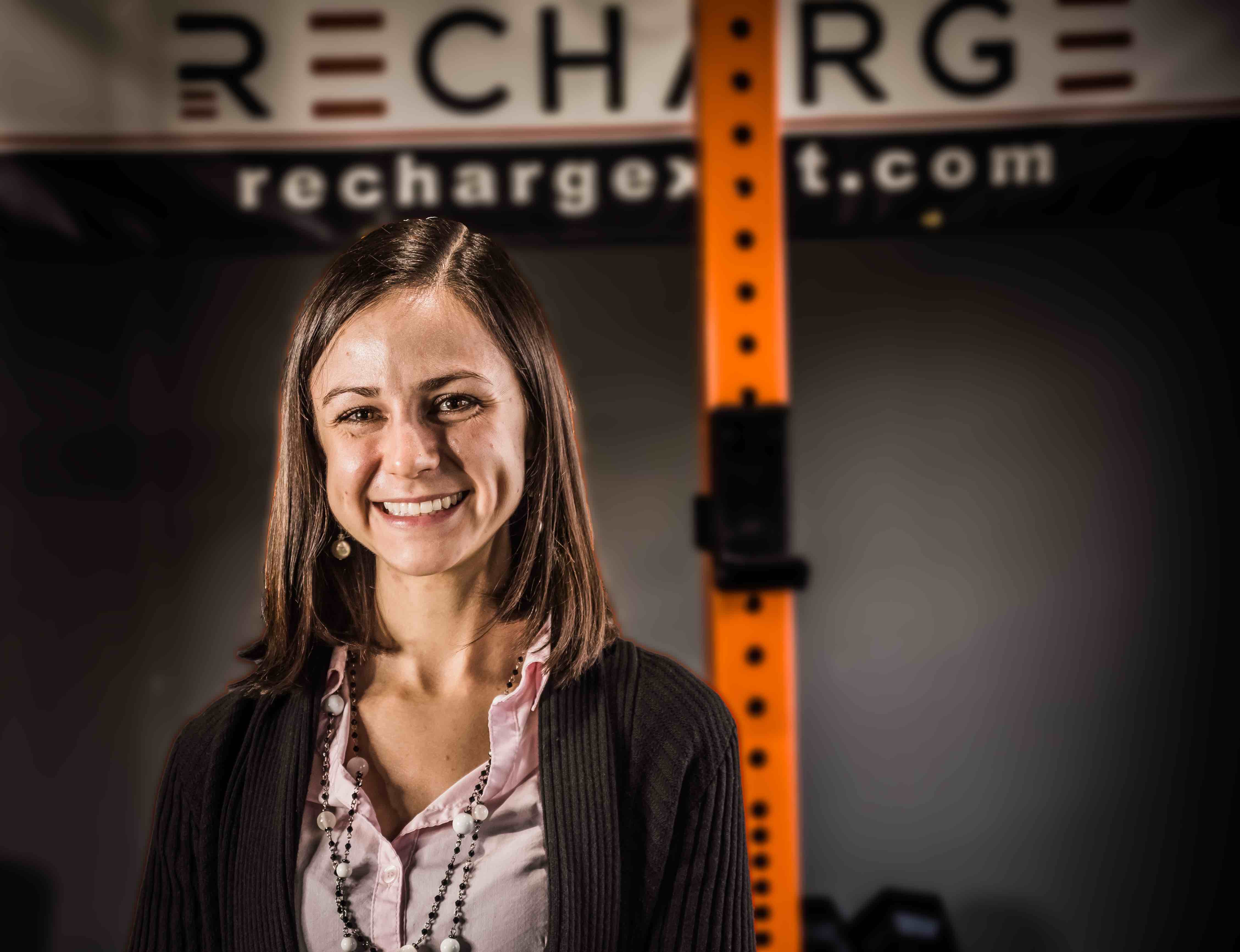 [x_custom_headline type="center" level="h1″ looks_like="h2″]The Recharge team is growing! Mandy will help us continue to bring a world-class health and fitness experience to our Ellicott City and Howard county community.[/x_custom_headline]
Take it away Mandy…
Hi I'm Mandy! I'm the newest addition to the Recharge team, and I am beyond excited to be here!
I am the Director of Communications, and although I do not have a background in physical therapy, like the rest of our team, I do have a deep passion for all things health, fitness, and nutrition…..and I also happen to be the yoga instructor around here, so I think I will fit in just fine!
When I was asked to write a blog about myself, I nearly cringed.
Talking or writing about myself is not my favorite thing, but I'll do my best to give you a snippet of who I am….
One big, loud family
Born and raised in Maryland, I come from a big, loud extended family, and I happily married into yet another large and rather noisy family, but I absolutely love it. Family is everything to me and I greatly cherish all of the moments I get to spend with those closest to me. My amazing husband, who's my number-one encourager, is a dedicated CrossFitter at Recharge. He and I revolve our lives around serving others and making memories together. Most importantly, we love to stay active! And aside from being active 99% of the time, I love to cook and blog about the recipes I make.
Traveling the world
At a rather young age, I uncovered a hidden joy of writing I didn't know I possessed. My spunky grandmother so generously felt a need to culture her grandchildren, so I began journaling all of our crazy adventures around the world, and I even continued documenting my global escapades into adulthood. From Italy, to Amsterdam, to Poland, and all the places in between, I have filled the pages of my journals with lasting memories, and it's such a joy to read through them from time to time and reminisce.
Sports were a family affair
So how did I get into sports and fitness? I have my brother to thank for that! My brother is only 20 months older than I am, so growing up, we were best friends. We fought like any brother-sister duo would, but we did everything together. I looked up to my brother (and in a way I still do!), and followed in his footsteps, playing every sport he played. My brother signed up to play soccer, so I did too. Basketball, I was right there behind him. My dad coached several of our little league teams and my mom was always there on the sidelines cheering us on, so sports were a huge deal in our house. Although my brother and I dappled in a few other sports here and there, we both ended up playing soccer and basketball for our high school teams.
Where does yoga fit in?
After high school, neither of us pursued collegiate sports, but because I was so used to being active, I needed an outlet to expend all my energy! Enter, weight lifting….and yes, my brother started hitting the barbells in the gym too, so naturally, I followed. I also began taking up yoga to complement my time in the gym, and, after eight years of being a yoga student, with the much-needed encouragement from a dear friend, I finally took the great leap of faith to become a yoga instructor. I am now a RYT-200 Yoga Alliance-certified instructor, and I am thrilled to begin my teaching career at Recharge!
Adapting to life changes
Through my own set of health setbacks over the course of my life, I've had to drastically alter my lifestyle, both nutritionally and physically, and I have adopted more of a plant-based diet. My eyes have been opened to a whole new world of plant-based cooking, and I absolutely love sharing my recipes and enlightening others about the incredible power of plant nutrition.
So that's me in a nutshell. By nature, I am an introvert, but I have a soft spot for fellowship with others. We all have a story, and as much as I am timid about sharing my own story, I love hearing how the chapters of others' are unfolding.